RX017
Roman marble of a Greek warrior, a fragmentary sarcophagus relief.
Antonine Period, 2nd century AD.
H. 28cm. (11 1/5 in.).
Fine white marble with outstanding natural glossy surface.
Ex. Israeli collection, 1970.
Sold


---
The Greek warrior is portrayed with his head in profile to the left, the body is shown from the back in movement to the left, in three quarter relief. The head with crescented Corinthian helmet and the cuirassed body with a mantle (-paludamentum?) over his shoulders, tied with a fibula over the left shoulder. The face is finely modeled with almond shaped eye, straight nose, full lips, and rounded chin.
The Greek warrior is a fragment from a sarcophagus relief depicting a mythological battle scene of the Greeks with the Trojans, or with the Galatians.
Cf. Ashkelon Roman Battle Scene Sarcophagus, 6000 Years of Art in the Holy Land, M. Avi-Yonah, prof. Y. Yadin, Jerusalem, 1986, pp. 236, dalet 51
For Roman battle sarcophagi Cf. Kleiner, D. E. E., Roman Sculpture, Yale University Press, 1992, pp. 257; 301.
Back to top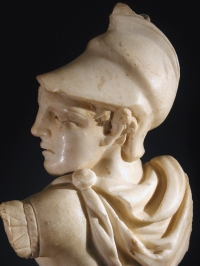 Click on any image to enlarge it.